Is Mickie James Being Set Up?
Is Mickie James Being Set Up ?
Mickie James has a habit of being a big fan of her respective female wrestlers.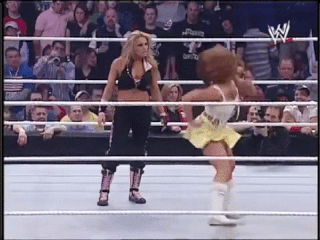 For those of you who may need a refresher, in a 2005 storyline, James started out as being a 'casual' fan of fellow wrestler, Trish Stratus. Over a few months, she went from being a 'casual' fan to interfering with Stratus' matches, usually tipping the scales in Stratus' favor.
In a short time, it went from James being an overzealous ally, to a Woman obsessed.
After about a six or seven-month period of a storyline build up, it all came to a head at WrestleMania 22. Stratus Vs. James.
Towards the end of this intense battle, Stratus tries to inflict her signature move 'Stratusfaction' which James counters by 'distracting' her with a now infamous obscene gesture (Search the internet, you'll find it.).
James, taking advantage of the distraction, then uses the opportunity and applies what she then called a 'Chick Kick' (which would later be regarded as the 'Mick Kick') and then gets the count of 1…2…3 – James was the victor!
So, this storyline took roughly seven months, was built up slowly and was a quite prevalent storyline for the WWE in the pre- 'PG Era'.
Mickie James was the 'stalker' of #TrishStratus. First being a fan, then becoming obsessed and overzealous and then it came down to a battle to see who was the better wrestler.
Is this what the Mickie James and #AlexaBliss storyline is leading up to?
#MickieJames has been a sort of 'cheerleader' for Bliss for quite some time now, on top of that, she has interfered in several matches that usually tipped the scales in Bliss' favor.
The Mickie James/Trish Stratus/Alexa Bliss storylines are all too close to each other.
What WWE could do is have James become obsessed with Bliss (As she was with Stratus), Bliss would then distance herself from James and then James could align herself with either Nia Jax, 'Rowdy' Ronda Rousey or both.
So, if this is the case, what differences do you think they'll make to the preexisting storyline? Do you think they need to make any changes? Do you think they'll come up with something different?
Leave your thoughts in the comment section below.
By
@GordonRupe
Summary
Article Name
Is Mickie James Being Set Up ?
Description
Is Mickie James Being Set Up? WWE Superstar Mickie James and her current storyline in WWE may be showing signs of a set up.
Author