How The WWE Women's 'Revolution' Isn't Very Revolutionary.
The WWE Women's division is supposed to be exactly that – a revolution.
Since the WWE ditched the term 'Diva' to describe their female wrestlers, they have been trying to gain more female fans. It hasn't been working the way that it should be.When comparing the female performers to those in the ranks of Ring of Honor/Women of Honor to those in the WWE, it seems their slow to catch up.YES, they've had an all-female Royal Rumble, YES, they've had an all-female Money in the Bank…
BUT, they are still lacking. The WWE needs to have the women's division catch up to the men's division.
How?
Easy, here are some thoughts on how and what they can do to move forward. Firstly, they need a Women's Universal Championship. This action in and of itself could take the competition in the women's division to a whole new level. They would then have sold competition for the Raw Women's belt, the Smackdown Women's belt and the Women's Universal belt…(For an example, Asuka, could, in theory, hold the Smackdown Women's belt and the Universal belt at the same time.)
Secondly, they need, and I mean NEED a Women's Tag-Team Championship.
How they have gotten this far without thinking of or acting on this idea is amazing. One would think this would be the first thing they would do once they established their 'Revolution'.
Lastly, with the first two points coming to fruition, they need to give the female performers more time in the ring and end the 'drama' backstage. There seems to be more high school drama cutaways than there is action in the ring.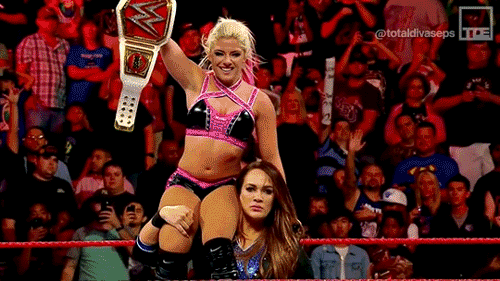 The #AlexaBliss and #NiaJax storyline (Bully/victim trade off) is proof that they need more in ring time and less melodrama in their story. They then proceeded to involve #MickieJames to create a kind of 'Mean Girls' arc with her teaming up with Bliss. The ONLY way WWE can have a Women's revolution is to treat the women just like the men, be it in their storylines or in the ring.
You have great performers like Becky Lynch, who is treated as comic relief…Natalya, who just plays a larger than life/over the top version of herself and the Sasha banks Bayley feud, which is a storyline out of 'Gossip Girl'.Some storylines drag on, like the Carmella and Charlotte Flair feud that has more trash talk than is needed.
Many people may not like to admit it, but #Carmella is (when given the chance) an excellent competitor, but as of late, she is short-changed due to storylines with Queen Flair. Where Carmella lacks strength, she makes up for in speed, and these details go ignored.
They need to follow the advice of #KurtAngle and "Settle it in the ring!"
By. #GordonRupe
@GordonRupe
Subscribe to our Newsletter
Do You want to write for RumblingRumors? Get started today!
Source:
https://en.wikipedia.org/wiki/Women_in_WWE
Summary
Article Name
How The WWE Women's 'Revolution' Isn't Very Revolutionary.
Description
The WWE Women's division is supposed to be exactly that – a revolution.
Author